I'd say that in general, I'm pretty fond of tradition. I guess I sort of like the romanticism and comfort associated with it. For me there's a family tradition of puffed pancakes every holiday or our lunch at Taco Bell every Sunday after church (
ok
not all traditions are actually
good
ones) or even just that Saturday morning coffee to kick the weekend off right. While I don't necessarily like the high class,
hoity
toity
pageantry often affiliated with our political system (political ceremonies
should
be an honor
TO
elected officials not in honor
OF
them, they are civil
servants
mind you... I'm getting off topic here aren't I), I generally have a soft spot for tradition.
I think I may have just found myself a new tradition.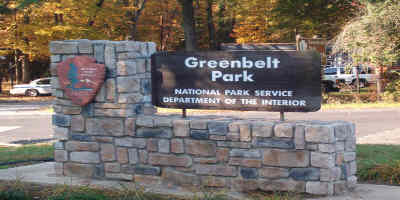 Sunday afternoons are always a bit tough, at least that's what I think. I never quite know what to do with my last remaining hours of freedom before heading back into the prison cell they call a cubicle to stare at a computer screen for hours on end. Generally, especially on a weekend as nice as this past I'd be afraid to throw the time away inside somewhere or head out somewhere
that'll
keep me from getting to bed at a reasonable time, which if that happens then my entire week is screwed when I wake up tired and
groggy
on Monday morning. (I know, I've gotten old quick!)
The last two Sundays though, I've done things a little bit differently. The days have been generally filled with the Tour and house work leaving me itching to get back outside a bit and for some enjoyable physical activity, as opposed to cleaning, house work, moving stuff etc... So, around 4 or 5 both weekends I headed over the Greenbelt National Park to do some trail running with Cassie.
GNP has in the neighborhood of 9 or 10 miles of marked trails in it with some surprisingly varied terrain, for the location. Throw in the fact that that location is a mere 5 or 10 minutes from my house and it makes for a pretty good little wooded escape when the trail system across the street from my house gets a little old.
Cass and I headed over there the past two Sunday evenings, marking my first two times entering the park for a reason other then racing the Wednesday night Route 1
Velo
training races and were pleasantly surprised by what we found. 8 miles later sweaty and happily tired we returned home for a calm and quite dinner and all in all a great end to a weekend.
Unfortunately the satiated feelings didn't quite last for Cass as I came home to a shredded Economist magazine and
pepco
bill on the floor. Am I just building her endurance and energy levels too much here?!!?!